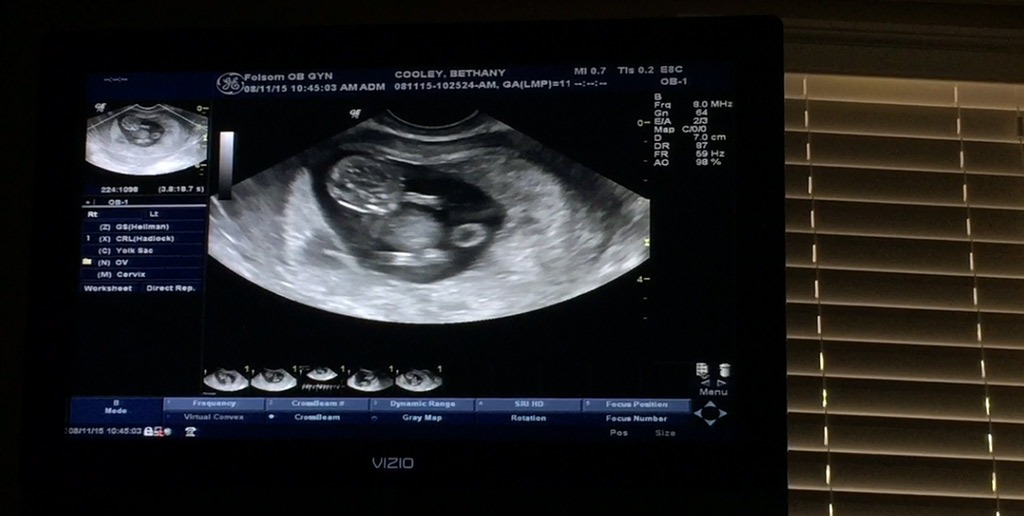 It's the big day, our first look inside, the day we get to meet our baby for the first time. Our appointment was early in the day at an OBGYN in Folsom, CA. We visited them one time before to get a feel for the place, it was nice, but today is what it's all about. We can't wait to meet them, it, ugh… the baby. Pronouns are difficult at this stage.
Thanks to my buddy Sam, who's wife is a little ahead of us, I knew what to expect going into this first ultrasound. The 11 week ultrasound is a little more invasive then the later ones and it may have caught be off guard. But may not. When that image came up on the screen of our little baby I was amazed. But… not so amazed that I didn't think to whip out my phone and film this momentous occasion.
This baby, currently the size of a walnut or a "tall-nut" for you Plants Vs. Zombies fans out there, is unmistakable. I could see the hands, fingers, toes and profile clear as day. Their hands moved back and forth as if to say "hey parents, I'm here!" Oh! And when they hiccup and scratch their ear… SO CUTE!
What really got me excited was hearing the heart. So fast, so loud. This was especially nice to me to hear that the heart is beating fast and normal for a baby this size. I recently got some news that my heart is abnormally slow, knowing that this is not showing up in our baby is a huge blessing.
The doctor said all seems well, I stopped recording and we headed out.
I had so much fun meeting our baby for the first time. By now we've already told our close family and friends about the pregnancy but it's not Facebook Official yet. A few more weeks before Baby Cooley goes viral… Until then I need to watch that video a few more times.
Love you Baby Cooley!
Mom & Dad.